Zonta Clubs around the world unite for 16 Days of Activism, 25 November to 10 December each year, to highlight the Zonta International Campaign to eliminate violence against women and girls. 25 November each year is the United Nations Day for the elimination of violence against women and 10 December, United Nations Day for Human Rights
In the lead up to and during the 16 days of action, clubs take to the streets of their neighbourhoods, towns and cities organising a wide range of "orange events" to emphasize the importance of individual and community activism to end violence
WHY THE COLOUR "ORANGE"?
The United Nations Secretary-General's Campaign UNiTE to End Violence against Women has proclaimed the 25th of each month as 'Orange Day', a day to raise awareness and take action against violence against women and girls.
WHAT ARE THE KEY MESSAGES OF THE CAMPAIGN?
Both men and women experience substantial levels of violence;
Domestic, Family and sexual violence is overwhelmingly committed by men against women;
The majority of people who experience domestic violence are women; and
DV knows no boundaries and occurs in all strata of society.
We need to change our attitude about women and our behaviour to build respectful and positive relationships.
WHAT ACTIONS DO CLUBS TAKE?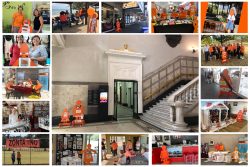 Placement of "Orange" women (plywood cut outs) in prominent locations e.g. businesses, ferry terminals, libraries etc. These silhouettes have information on violence against women as well as safety information for victims of domestic violence.
Hold functions with special guest speakers to provide information and statistics on the incidence of domestic and family violence and the support services available to victims of violence.Print and distribute community Information (Safety Cards) with emergency phone numbers for those who may be in a violent situation
Displays in Libraries, shopping malls and sporting venues during November/December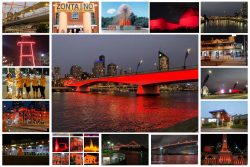 Sponsor the training of facilitators to conduct the school based "LoveBites" program which covers respectful relationships
Ask Government and Councils to support the campaign by lighting buildings and bridges orange during the campaign
SEEK PUBLICITY DURING THE CAMPAIGN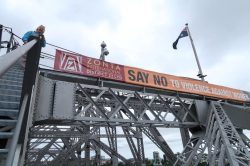 2023 ACTION- THIS LIST IS BEING UPDATED REGULARLY 
Brisbane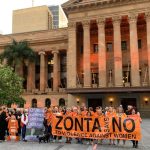 A major fellowship and advocacy walk on 22 November through the streets of Brisbane to highlight the campaign.  Zontians, friends (including four-footeds on leashes) and the wider community are invited to attend this Advocacy and Fellowship walk commencing from King George Square at 6.00 pm.    The full walk should take between 1.and 1.5 hours and the half walk 2.3km about 30-45 minutes.
14 November – 12 December 2023 – LightBox in King George Square
8 December 2023 – "Paint the Bayside Orange" Breakfast with Guest Speaker, Wynnum Manly Leagues Club
20 November -3 December 2023 – Zonta Says NO Banner hung across the Story Bridge inbound
21-22 November 2023 – City Hall and King George Square lit orange
21-22 November 2023 – Sandgate Town Hall lit orange
21-22 November  2023- Story Bridge, Victoria Bridge and Reddacliff Place sculptures Donna Marcus: Steam ,  Wickham Tce Car park, Tropical Dome and Breakfast Creek)
22 November 2023 – Zonta Says NO Walk around the City commencing from King George Square at 6.00pm followed by fellowship at the Pig and Whistle, King George Square
DATES TBA – Sir Leo Hielscher Bridges lit orange
DATES TBA – Treasury Casino lit orange
Social Media Campaign
Over 3 weekends a mass display pf orange silhouettes and stall in local park
Place orange silhouettes in the Orange PAH week activity.
Beaudesert
ZSN Stall in town centre
Orange silhouettes displayed
Large Banner displayed in town
Bowen
Post for 16 days a ZSN message on club's Facebook page
25 November -10 December 2022 – Banners displayed
Static display of ZSN materials in prominent town window location
Movie night "In Time of the Butterflies"
Bundaberg
18-19 November 2022 – Sugarland Shopping Centre 10am-1.00pm buy your ribbon/badge
26 November 2022 – Brunch at 9.30am-12pm Campaign launch at The Waves Club Bundaberg
Following Brunch Zonta Says NO walk  around soccer ground adjacent to The Waves Club
Lighting of the Fig Trees, Multiplex Centre, Auswide Bank in Orange
25November-10 December 2022 – Visit our Facebook page for releases
Burdekin
Banner displayed on St Francis' school on main highway

Water in the fountain on main street turned orange

Photos taken in participating local businesses with orange lady cut out. The business owners will hold a sign showing their support for the Zonta Says No campaign
Article with photos in the local newspaper during the 16 Days of Activism
Caboolture
Zonta Says No Banners displayed at Apex Park and at Sheep Station Creek
Caboolture Square lit up with Orange lighting
46 orange figures allocated to local libraries, charity organisations and businesses with the name and age of a woman or child who died as a result of domestic violence in the past 12 months
26-27 November 2022 – stall and display at Morayfield Shopping Centre
In collaboration with Bunnings Morayfield planting a garden with a floral shaped orange "Z" at the Burpengary Police Station supporting the survivors of Domestic Violence
Promotional interview on local radio
Cairns
14 November 2022 – Banner at the Health & Well Being Expo, Bentley Park College
25 November -10 December – Banner display Cairns City Council Library & The Raintrees Library
Displays in all libraries across Cairns region from Mossman to Gordonvale
Media messages across neon signs in  front of Joe Vella's Insurance Office and The Jack
Distribution of information and safety packs to Youth Support Co-Ordinators
Displays in hairdressers  and coffee shops
Brochure display in Breast Screen Cairns
Orange silhouettes displayed at Hambledon House and Bentley Park College
Interview on community radio
Social Media campaign
Charters Towers
Gladstone
Display on Hockey Fields Fencing Central Gladstone displaying the number of women deaths for the year
10 Corflutes Distributed to prominent locations
Over 35 Orange silhouettes displayed at Organisations/Businesses throughout Gladstone
Orange light-ups at Gladstone Regional Council and Gladstone Ports Corporation
Club Breakfast at the end of 16 Days celebrating Orange and 16 Days Social Media sharing, hashtags, tagging and scheduled community awareness
Video Recorded Messages leading up to and over the 16 days regularly posted on Facebook
Club dinner member meeting with an Orange partial theme in November to promote for the 16 days of Activism
27 October 2022 Reclaim the night wearing orange shirts, banners and signage
Beginning of October sending out community engagement packages by email to Previous and New organisations/businesses
Press release information sent out September
16 days of posts over Facebook of organisations/community engagement with the orange silhouettes
Pre-posts of Zonta 16 days of Activism of events and supporters
Video recorded messages from leaders in the community around what 16 Days of Activism against gender violence means to them and the theme UNITE.
Golden Z Club, USC Moreton Bay
Static Library display

Pledge and Candle Lighting Ceremony
Orange Hand Says No wall
10 December 2022 Light up the front of University Orange
10 December Light up street lights and splash Orange
Ipswich
24 November 2022 Campaign Launch, Tulmur Place with speaker and invited dignities
Council Building in Nicholas Street lit orange

Red Bench placed in Tulmur Place
28 October 2023 – ZSN Dinner, Ocean International
Mackay Regional Council Building lit orange
Orange silhouettes displayed at Mackay Hospital, Mackay Regional Libraries, Trudy Cowley Foundation, The Neighbourhood Hub
Newspaper column Mackay Whitsunday Life (see article above)
Social Media campaign
Maryborough
Banner displayed Wallaroo Hockey Club
26 November 2022 – Walk Against Violence 9.00am City Hall to Elizabeth Rose Gardens
Unveiling of Orange Bench in Elizabeth Rose Gardens
Buildings lit orange
Mount Isa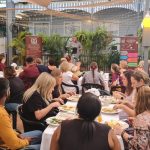 Noosa
Banner displayed in street
Tree in Hastings Street lit orange
21 November 2022 – 10 December 2022 PowerPoint display Bendigo Bank Tewantin-Noosa with Zontians staffing stall during lunch hour
25 November -10 December Display in Noosa Library
27 November 2022 – Riverside Walk and Candlelight Vigil – River Stage, Lions Park, Noosaville
Social media positing throughout the 16 days
Northern Rivers
Banner on the Bruxner Highway in Lismore
20 orange silhouettes displayed in shops, business and cafes
8 December 2022 a NORWACS and GADAus 16 Days of Activism event at Southern Cross University will focus on response to violence against women in disasters, and specifically in the aftermath of the 2022 Lismore and Northern Rivers Region floods – on line and in person. Registration is free.
Social media campaign
Northside
Billboard message Salvation Army Taigum
Large Banner outside Bonnyview Hotel, Bald Hills
12 November 2022 – stall at Bracken Ridge Plaza Community Day
Paradise Point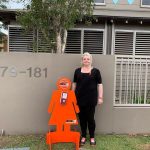 Orange Silhouettes in businesses, organisations, MPs offices
Social Media Campaign
Attend screening of "The Fort"
Pine Rivers
28 November-11 December 2022 – Large banner Leis Park Lawnton near the entrance to the University and Leslie Patrick Park, Arana Hills
26 November 2022 -Birthing Kit Assembly Day
11 December 2022 – Bunnings Sausage Sizzle, Carseldine
10 Christmas Hampers to the Centre Against Domestic Abuse, Strathpine
Social media campaign
Redcliffe
10 October 2023 – Moreton Bay Say NO to Violence Walk
21 November 2023 – Orange Activism Breakfast, The Komo, Redcliffe
21 November – 11 December 2023 Banners displayed at Redcliffe Youth Space Cnr Anzac Ave and Oxley Ave Redcliffe; Bi-Centennial Park Hornibrook Esp Clontarf; Mango Hill Light Horse Monument – Anzac Ave Mango Hill and John Neumann Hall Deception Bay Rd Deception Bay
25 November – 10 December 2023  Redcliffe Administration Building; Caboolture Hub; Humpybong Fountain; Scarborough Beach Park and Various Trees around the Peninsula lit orange
9 December 2023 – Flag raising ceremony -Redcliffe Administration Building
25 November – 10 December 2022 Displays in Redcliffe Library, Deception Bay Library, North Lakes Library and orange silhouettes in various businesses
Social media campaign involving businesses and individuals
Rockhampton
Orange lighting of heritage buildings in Rockhampton
Orange lighting of structures on the Capricorn Coast
ZSN banners hung in strategic positions in Rockhampton
Distribution of 'The Little Book of Healthy Relationships " – a booklet with information about DFV, produced in conjunction with CQ Healthy Families
24 November 2022 Event at the Blue Illusion store in Stockland shopping centre
Social Media campaign
Stanthorpe
25 November 2022 -afternoon tea for members providing a briefing on the newly released National Plan to End Gender-Based violence and reviewing what communities can do
2 December 2022 – webinar on forced marriage in Australia with Professor Jennifer. Go to Upcoming Events on this site for details.
25 November – 10 December – display of banner for ZSN
25 November – 10 December – social media campaign, with a post every day during the 16 days
Toowoomba
25 November-10 December 2022 Zonta Says No banner to be displayed over Margaret St
25 November 2022 – Walk Against Domestic Violence, Victoria Street Bridge, 5.00pm
26 November 2022 – Zonta Community Market Stall, Toowoomba Farmer's Market

Victoria Street Bridge lit orange
25-10 December 202216 white ladies with message will be displayed in business houses and this year with white veils advocating the message: Girls not Brides Zonta Says No to Child Marriage.
Townsville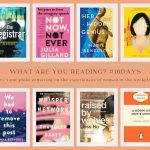 Banner displayed at the Cowboys Club
Warwick
25 November -10 December 2022 – Banner displayed at Town Hall25 November -10 December 2022 – Town Hall lit orange
30 November 2022 – DV Support Training Day
During the 16 days of Activism the Women's Advocacy and Action Team Southern Downs is holding a Common Risk and Safety Framework (CRASF) Roadshow information session, aimed at assisting integrated service system stakeholders to understand the CRASF and how to use the CRASF tools.  This will be attended by Warwick Zontians
Members will attend the Warwick Anglican Church Service remembering victims of Domestic and Family Violence
10 life size orange women silhouettes (made by the Warwick Men's Shed) will be placed in businesses around town displaying Zonta's brochures / bookmarks / DV business sized cards
15 small orange women silhouettes will be placed on counters in hairdressers, coffee shops etc displaying DV cards
Display in the shopping centre
Updates and photographs will be taken of all large orange silhouettes in the businesses in town and posted on social media / Facebook page
Interview with Community Radio before the launch to highlight what will be done in the area
An article and photos will be provided for the local newspaper during the 16 days campaign
Wynnum Redlands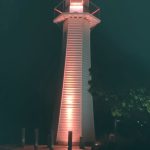 25 November – 10 December 2022 Cleveland Lighthouse lit orange
30 November 2022 – handing out information at Cleveland Train Station
7 December 2022 – handing out information at Manly Train Station
To find out more about this global campaign visit the Zonta Says No website.