Service Activities – District 22
District 22 Service Projects
Zontians are committed to service both in their local communities and at the international level.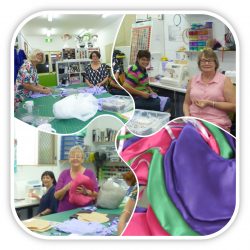 International projects are carefully researched and costed by Zonta International before recommendations are put forward for consideration and adoption by delegates attending the biennial Zonta International Convention.
Individual Clubs determine their local service projects in line with Zonta's objects and depending on the needs of their local areas. Service projects may be the local funding of some activity or a "hands on" service project (e.g. many Clubs support refuges for women escaping domestic violence).
Clubs are also encouraged to support and participate in District projects. District 22 currently endorses two such projects – the making and supply of breast care cushions to women across the District who have undergone breast surgery and the assembly of birthing kits to ensure a clean birthing environment for women in developing countries. Details of both projects are given below.
Zonta Breast Care Cushions

Breast care cushions are designed to provide support and protection from rubbing and accidental knocks for women who have had breast surgery. The cushions are made from soft material, usually a soft cotton or satin, wrapped prettily and provided, free of charge, to women while they are in hospital following breast surgery. They can be worn under normal clothing but are attractive enough to be worn over clothing.
The first cushions were designed and made in 1994 by Ann Selle, a member of the Zonta Club of Botany Bay in NSW. As well as continuing to make cushions for women in their local area, the Club encouraged other Zonta Clubs to make them. This resulted in a motion at the District 24 Conference in Tamworth in 2001 that the making and distribution of the cushions become a District Endorsed Service Project. Clubs throughout New South Wales, the Australian Capital Territory and Queensland then became involved in the project, and Queensland Clubs have continued their involvement since becoming a separate District (District 22) in 2008. District 23, which covers the remainder of Australia, also adopted the project, making breast care cushions the first national Zonta project in Australia.
More than 5,800 cushions are now supplied each year by Zontians in Queensland and northern NSW. Zontians enjoy the fellowship whilst making and wrapping the cushions and a number of Clubs have enlisted the assistance of others in the community. Clubs either purchase the necessary materials or apply for grants from Councils and community benefit funds.
A number of Clubs also make and distribute Drainage Bags to the women.  Copies of the DVD "Side by Side" produced by the Zonta Club of Redcliffe Inc have also been provided to a number of the Breast Care Nurses.
The list of District 22 Clubs involved in the project and the hospitals/organisations which they supply with the cushions for distribution can be found at this link: Zonta Breast Care Cushions Distribution – District 22 Clubs -August 2023
For more information about this project please contact Ros Kinder on 0419 026 756 or by email.
Zonta Birthing Kit Project
Worldwide, an estimated 385,000 women die annually in childbirth, most of them in developing countries, and many from infections acquired during childbirth.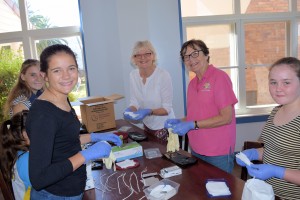 A birthing kit is are a pack of six simple items which enable these women to give birth at home in a clean environment, thereby decreasing the risk of death from infection and bleeding. The six items are: a sheet of plastic to provide a clean birth site, a cake of soap and a pair of rubber gloves for the birthing attendant to have clean hands, and basic surgical items – a scalpel blade, gauze pads and clips or ties for the umbilical cord.
The first birthing kits were made by the Zonta club of the Adelaide Hills Area following attendance by one of its members, Dr Joy O'Hazy, at the 4th World Conference for Women in 1995 in Beijing where she heard the actress, Sally Field, speak about how these small kits that cost less than a dollar could save a life. In 1999 the club turned the idea into a reality by organising the first assembly day. Today, the birthing kits and education in clean birthing practices are provided by the Birthing Kit Foundation of Australia, a not-for-profit non-government organisation (NGO) based in Adelaide, but Zonta clubs throughout Australia still support the project, organizing assembly days. By August 2012, one million birthing kits had been assembled and distributed and this nuber is still rising as demand for the kits increases.
The Foundation works with carefully screened partner organisations to distribute the kits and ensure that health professionals provide instruction in how to use the kits correctly.
Her Excellency Ms Quentin Bryce AC, CVO and former Governor-General of the Commonwealth of Australia, is the Birthing Kit Foundation (Australia) Patron.
For more information about the Birthing Kit Foundation, go to: Birthing Kit Foundation of Australia website
Zonta International Service Programs
| | |
| --- | --- |
| Engaging Girls on Climate Change – Madagascar | Adolescent Girls' Health & Protection in Peru |
| Ending Child Marriage – 12 Countries | Her Health & Dignity – Our Priority – Strengthening Services for Survivors of GBV – PNG and Timor Leste |